Narrow Stair Lift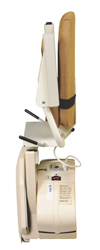 Staircases come in all sizes, and an older home may be designed with a narrow set of stairs. If age or a disability has decreased your mobility, you may find that getting up a staircase is almost impossible and can be a hazard. Narrow stair cases are even more difficult, and as a result, you may be cut off from a full floor of your home. Instead of settling for less or rearranging your living area, add a narrow stair lift.
Call 1-888-203-5754 for More Information
In general, stair lifts are lifting devices consisting of a track system and a chair. The device is installed directly onto the stairs or to a wall. Because of their compact size, narrow stair lifts are typically added to a wall. The device operates with direct or battery power and is equipped with an emergency switch and swivel seat. Compact stair lifts, additionally, fold up at either end to give enough space to non-users.
A narrow stair lift typically has a straight design. At Indy Stair Lifts, the most compact model, the Indy Pinnacle, aligns with a straight, narrow stairway. Some homes, however, have an L-shaped or curved staircase. Two separate stair lifts are often used to accommodate an L-shape, and the user transfers from one to another on the landing. Curved stairways may need a custom design, which is fitted to the exact angle and turns. A custom design can also be used for L-shaped staircases.
Indy Stair Lifts' narrow model, the Indy Pinnacle, comes in residential and commercial versions. Both, however, address the limitations of a narrow space with a compact and foldable design. As the narrowest stair lift on the market, the Indy Pinnacle is only 11 inches from the wall once installed and operates with a helical drive system. The device supports up to 350 pounds, offers adjustable height, and operates during power outages. When not in use, the Indy Pinnacle folds up at the top or bottom of a stairway.