PRO XL Stair Lift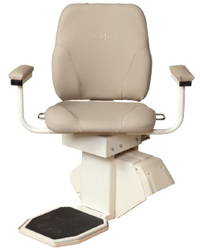 Largest weight capacity in the industry.
If you're looking for the ultimate in accommodation, look no further than the Indy PRO XL. Supporting up to 500 lbs, the Indy PRO XL has the heaviest carrying capacity in the stair lift industry. Its seat is a roomy 25" wide and features reinforced materials to maintain its stability and comfort.
With a 90° swiveling seat on the upper and lower landing the Indy PRO XL allows for a safe and easy exit and entry. Worried about misuse?  The Indy PRO XL features a safety switch that disables the stair lift when the seat is not in the correct position. With the Indy PRO XL your facility will offer both freedom and acceptance to every client, guest and patient.
Accommodate all workers, clients, and patients with the Indy PRO XL Stair Lift. With the greatest carrying capacity in the industry, the Indy XL PRO supports up to 500 pounds and adjusts to various body types and sizes. Designed with reinforced armrests and footrests, the Indy XL PRO makes using a stair lift a comfortable experience for everyone.
To provide the most comfortable ride and accessibility, the Indy PRO XL Stair Lift has a 25-inch seat that swivels 90 degrees. The commercial stair lift, as well, is built with a safety switch. No matter your body size or type, you can smoothly get from one floor to another with our Indy PRO XL Stair Lift.
Back to Main
Features
Made in the USA.
The only 500 lb capacity stair lift available.
Seat with a top height of 20″ and a bottom seat height of 25″ for comfort and flexibility.
Seat swivels 90° on upper and lower landing.
Extended stability with reinforced seat, footrest and armrests.
Specification
Industry-best 500 pound capacity
Contoured 25-inch wide seat with extra-high moulded seatback and pleasing upholstery
Travels up to 40 feet
Heavy duty seat, arm and foot rest frames
Easy to use integrated constant pressure control switch
90-degree swivel at both upper and lower landings
Non-handed for easy change to right or left side configuration