PRO Pinnacle Stair Lift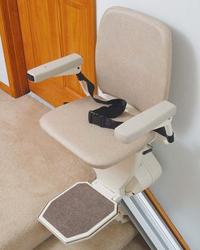 Comfortable for your clients. Compact for you.
The Indy PRO Pinnacle is smooth, small and safe. Extending a short distance of 11" from the wall, the Indy PRO Pinnacle gives plenty of room to non-users. Featuring the patented helical drive system, the user will always be comforted by the easy controls and smooth journey.
With the ability to lift 350 lbs, the Indy PRO Pinnacle offers safety features including safety sensors that stop the stair lift when it meets an obstruction, and indicator lights that are easy to read and operate. Give clients, guests and patients the very best in compact stair lifts with the Indy PRO Pinnacle.
The smallest commercial stair lift from our selection, the Indy PRO Pinnacle has a compact design that sits only 11 inches from the wall. Increase mobility for all workers, patients, or clients and still allow room for non-users on the stairs. With a helical drive system, the Indy PRO Pinnacle is equipped with safety sensors, indicator lights, and easy controls and operates during power outages.
If your facility has narrow staircases, consider the Indy PRO Pinnacle for these areas as well. A lightweight commercial stair lift, the Indy PRO Pinnacle features a swivel seat and adjustable height and supports up to 350 pounds.
Back to Main
Features
Made in the USA.
Safety sensors give piece of mind that the stair lift will always stop when it meets an obstruction.
Indicator lights provide an easy operating system.
Entire system weighs an incredible 180 lbs., including the 16 feet of track! It is the lightest stair lift on the market today.
11" wide – making it the narrowest stair lift available.
Able to continue to operate during a power outage up to 40 times.
A comfortable ride due to its patented helical drive system.
Easy to clean and vacuum.
Swivel seat upon upper landing provides safe and simple exit and entry.
Height adjustable seat offers superior comfort.
Does not require greases or lubricants.
Specification
Weight capacity: 350 lbs
Electrical requirements: 115 VAC
Operation power: 24V DC Battery
Travel distance: 16 feet standard – available up to 75 feet
Speed: 17-21 ft per minute
Incline limits: 27 – 52 degrees
Drive system: Polymer worm/worm-rack
Motor output speed at rated load: 62 rpm
Motor output torque at rated load: 18 lb ft
Motor output amps at rated load: 14 Amps
Track type: Extruded aluminum
Average return trips per charge: 20 – 40 – varies based on load & length.
Switchable arms for left-handed and right-handed operation.
Need to open chassis to install or change sides.