4 Tips for Adapting a Home to a Stair Lift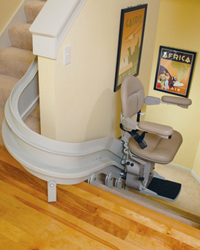 As you plan to have a stair lift installed, realize that this system requires maintenance, shouldn't be an obstruction, and is ideally part of a greater mobility-improving solution in your home. Consider these tips:
1. How Much Space?
When a stair lift becomes part of your home, it's imperative to think about others who will go up and down the stairs.
Most individuals require some space to travel from one floor to another without having to step over anything or worry about trips and falls. In addressing this scenario, you need to consider your stair lift: Particularly, whether it will go around the wall at both sides, essentially curving away so it won't block the path, or fold up at either end.
Call 1-888-203-5754 for More Information
2. Handling the Second Floor
When a stair lift gets installed, it's often as a last-resort effort. That is, homeowners with impaired mobility haven't been able to access the second floor for some time and, in the process, have modified their lives to fit on the first floor and front steps.
It's recommended, then, that once a stair lift is ready, any homeowners must become accustomed to using the second floor as part of their daily routine. This could be allotting time to clean the area, or moving back some features that have migrated down to ground level.
3. Have a Warranty
You never know when repairs or maintenance will be needed. To be ready for anything costly, always make sure your system comes with a warranty.
4. Make It Part of a Plan to Modify a Home
Whether an individual is adjusting to a disability, medical condition, or old age, occupational therapists recommend making the following modifications to your home:
Ordering and installing a stair lift
Widening all doorways and passageways
Moving light switches, phones, and doorbells to more accessible heights
Installing grab rails
Moving the bedroom and bathroom to the ground floor
Making sure all paths have a solid surface
Making sure every exit is accessible
As you go about your search for a mobility device, explore your residential options with Indy Stair Lifts. Browse our site for a range of sizes and configurations for your home.