Stair Lifts for the Elderly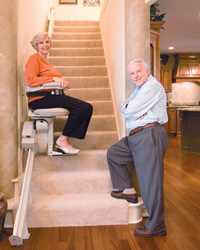 It isn't exactly a secret that sometimes climbing stairs can be someone difficult for the elderly. Many people live in beautiful multi-story homes and shouldn't have to sell their dream home just because they are no longer able to climb the stairs. You may be considering downgrading to a single story home, but if you don't absolutely have to do that, why would you want to give up the house you've lived your life in? Well, there is a solution that is much more cost-effective than purchasing a new home and will let you live happily in your current home: a stair lift.
Call 1-888-203-5754 for More Information
Whether you are considering adding a stair lift to your own home or you are thinking about purchasing one for a loved one, it will be often used and greatly appreciated. Some may fear having a stair lift installed in their home due to construction and costs, but our stair lifts can be quickly installed and are relatively inexpensive when you consider your alternatives, such as moving to a single-story home. Some people may also fear that their home is not suited for stairlifts if they have particularly curvy stairs or more than two floors in their home, but our curved stair lifts work wonderfully in these cases.
Instead of having to rely on someone to always be there to help you scale the stairs, you will easily be able to do it on your own with a stair lift. By browsing our wide variety of stair lifts for the elderly, you will be able to find that perfect one for you and your home to make your house more accessible for anyone who is unable to climb the stairs. And maybe you are considering adding a stair lift to your home for an elderly loved one who is going to be staying with you for an extended period of time; instead of purchasing one, you may want to consider our rental program for when they are visiting.
Whichever decisions you end up making about your stair lift for the elderly person in your life or yourself, you will be thrilled with the ease it brings to every day tasks. You will no longer have to wait for someone to help you down the stairs in the morning to have your morning coffee or have someone escort you upstairs to your bedroom every night.