Platform Stairlift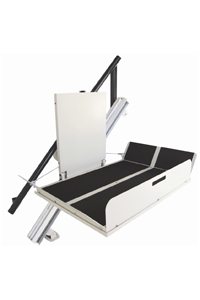 Steps and staircases are all hindrances for those using wheelchairs or motorized scooters. If you live in a multistory home or work in a commercial building, access to top floors is necessary and, if an elevator is not available, can be achieved with a platform stairlift. Similar in concept to a standard chair model, a platform stairlift consists of a flat space for a wheelchair or motorized scooter, side flaps, and various safety features.
In order to support a wheelchair or scooter, however, a platform stairlift is put together with heavier construction. The surface area of the platform is large enough for a wheelchair or scooter to stay, and the platform itself is equipped with edge flaps, which can act like ramps and prevent the wheelchair or scooter from sliding off.
Call 1-888-203-5754 for More Information
Our own Indy Platform Stair Lift is designed with these points in mind. Based on our compact Indy Pinnacle model, the Indy Platform has a 25 by 36-inch stand, with side flaps, that folds at the top or bottom of a staircase. When folded, the platform is only 12 inches from the wall. Supporting up to 500 pounds, the system also has a wall-mounted guide rail, which offers stability when used as a handrail. The Indy Platform mounts directly to a staircase and travels up to 40 feet at 14 feet per second. An outdoor model is also available.
A typical stairlift is equipped with such safety features as an emergency switch and sensor; a platform stairlift has this and more. The Indy Platform Stair Lift is designed with a ramp obstruction sensor, an over speed governor, and a non-skid surface.
Wheelchair platform stairlifts can be found in or outside homes or in front of commercial buildings. No matter its location, a platform stairlift increases accessibility of a multi-floor home or building for an individual using a wheelchair or motorized scooter.