What Are the Different Sizes of Stair Lifts?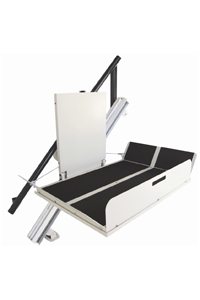 When considering the size of stair lifts, the stair lift chair and the weight limit are two considerations.
Stair lifts chairs come in a variety of sizes, most ranging from 18 inches wide to 20 inches wide, arm to arm. Custom seating sizes are available.
The weight capacity varies by model, from 275 to 350 pounds on most models.
Call 1-888-203-5754 for More Information
You can measure your staircase to determine the size stair lift to install. The first measurement should be the length of track from the top to the bottom of the steps. The second measurement to take is the height, tread and width of the steps.
The other consideration for sizing is to determine whether a standard or heavy duty weight capacity will be most suitable. Standard size stair lifts hold up to 350 pounds, while heavy duty stair lifts can support up to 600 pounds. They feature wider seats (23-25 inches versus 20-22 inches) and require a staircase that is 36 inches wide to fit the larger size lift and carriage.
Check with the manufacturer for details on stair lift sizes.
Indy Stair Lifts offers stair lifts for all types of staircases. Choose from residential or commercial stair lifts in compact, extra-large or wheelchair-accessible platform lift designs.
Our residential lifts range in style, size and ability to match the needs of your home, from the Indy Pinnacle, which is 11″ wide, the narrowest stair lift available, to the Indy Lux, with a seat width of 21.75″ and a 400 pound weight capacity. We also offer an outdoor stair lift with a 19″ seat that supports up to 350 pounds.
We offer straight and curved stair lifts, with straight lifts cut to match the length of the staircase and curved stair lifts with a custom built rail that matches the contour of the stairs. Curved stair lifts can maneuver through 90- and 180-degree turns and curve around a banister.
Call Indy Stair Lifts today at 888-203-5754 for more information about our stair lifts to accommodate your home that will be installed by trained technicians to insure they are installed properly for safety.