The Advantages of Stair Lifts for Seniors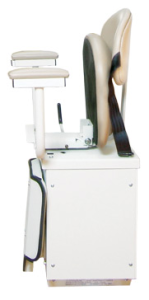 Limited mobility is an issue for many seniors and a concern for their families. Senior citizens who want to stay in their homes and remain independent can improve their mobility and stay safe by installing a stair lift.
A stair lift can transport you or a loved one safely from one floor to another at home. A stair lift can provide a safe means of transportation so that you will no longer have to worry about the dangers of falling on the stairs. It is an especially good option for a senior citizen who lives alone.
Call 1-888-203-5754 for More Information
A stair lift attaches directly to a staircase and can be custom-built for each home. With a straight staircase, the rail is cut to match the length of the stairs. The stair lift can be delivered in a few days and installed by a trained technician in only a few hours.
A stair lift can also be installed in a home with a curved staircase. A technician will take measurements and send them to a factory, where a stair lift will be custom-built to perfectly fit the staircase. A stair lift can go around 90- or 180-degree turns, over landings, and around banisters.
Stair lifts are compact, comfortable, and efficient. They operate on battery power and will continue to work even if the power goes out. Stair lifts include standard safety features, such as sensors that stop the stair lift if it encounters an obstruction and indicator lights that are easy to read. Stair lifts are easy to enter and exit, even for seniors with limited mobility. They are simple to operate and require little maintenance.
Outdoor stair lifts are also available that can help seniors enjoy their porches, patios, or yards. Outdoor stair lifts have weather-tight covers that can withstand storms, extreme temperatures, and long-term usage. Stair lifts that can accommodate wheelchairs and motorized scooters are also available.
Installing a stair lift is a perfect solution for a senior citizen with limited mobility who wants to continue living at home and being independent. Stair lifts can be customized for individual needs and are equipped with safety features that will provide comfort and security for seniors and peace of mind for their families.