How is an Outdoor Stair Lift Built?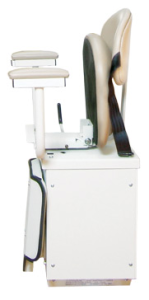 Stair lifts, also called chair lifts and stair gliders, are great for helping individuals up and down stairs when they can no longer do so without aid. Stair lifts have helped many regain their independence both at home and at work. For this reason, more and more individuals who can no longer conquer the stairs are relying on both indoor and outdoor stair lifts. It is important to understand the differences between outdoor and indoor stair lifts before installing one. Here is how an outdoor stair lift is built.
Call 1-888-203-5754 for More Information
Commonalities – What do both indoor and outdoor stair lifts have in common? Surprisingly, outdoor stair lifts have more in common with their indoor cousins than many think. Both operate in the same way and feature the same major parts: a rail, chair, motor, controls, and safety features. The rail is attached to a wall inside and deck when outside. The car then travels up and down the rail, either by a battery-powered motor or through direct current. The rider is able to operate the platform or chair via the use of controls located on the arm of the chair. Safety features are a part of every stair lift, whether indoors or out, and include things like seat belts, emergency braking, and footplates.
Differences – The major difference between an indoor stair lift and an outdoor one is the need for weather protection. Installing an indoor stair lift outside would result in quick decay of the system and ultimately premature breakage. This is why stair lifts designated for outdoor usages are built with one thing in mind, weatherproofing. All outdoor stair lifts are sealed in all places that need to be sealed. They are sealed to prevent water or dirt from penetrating the system. If dirt and water were to infiltrate the motor or gear system, expensive damages could be the result. In addition to sealing off they system, outdoor stair lifts also come with waterproofing covers for more protection. Covers protect the operating components, the header, and the seat or platform. Some outdoor stair lifts even come with a built-in heater to provide warmth to the rider when temperatures drop.
The major difference in how outdoor stair lifts are built results from the undeniable need for weatherproofing. An outdoor stair lift that cannot withstand temperature changes and other acts of Mother Nature is useless to the consumer. Other than the ability for the outdoor stair lift to resist weatherization, it is built identically to the indoor lift model.