Choosing a Stairlift for Outdoor Use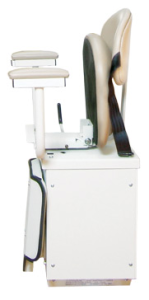 Outdoor stairlifts can withstand storms, seasons, and years of use. They are protected from the elements by weather-tight covers and are comfortable, with 19-inch seats that swivel 90 degrees and support up to 350 pounds. Outdoor stairlifts come with a component cover, header cover, and seat and unit cover that ensure the stairlift's longevity and protection.
When you choose an outdoor stairlift, you must decide between a straight or curved model, like you would with an indoor stairlift. Straight stairlifts run along a straight rail, while curved models run along a bend or curve. The curved models are custom-designed to suit individual staircases, so they are more expensive and take longer to complete.The outdoor stairlift can be installed on either side of a staircase and mounted directly to the stairs instead of a wall.
Call 1-888-203-5754 for More Information
Outdoor stairlifts work like indoor models, with weatherproof components designed for use in all seasons.Most come with a removable waterproof cover to protect the seat, arms, and footrest when the stairlift is not in use. They also come with all the additional features of indoor stairlifts, including padded seats, seat belts, perches, and swivel seats.
Outdoor stairlifts come with remote control devices that can use radio frequency controls that work perfectly through covers, bright sunlight, and low-energy light bulb operation, like the car key fobs that lock and unlock your car door.
External stairlifts are truly life-changing. Outdoor stairlifts give customers additional freedom as they are able to regain their independence. They provide complete peace of mind as it means steps can be negotiated safely and with ease, whatever the weather or time of year.
There are a variety of models suitable for open air use thatprovide customers with the most effective and highest quality outdoor stairlifts.
Look online for companies that offer a wide variety of outdoor stairlifts that can be used outside your home and help you get up and down your porch stairs in rain, snow, or sleet.