Buying a Used Stair Lift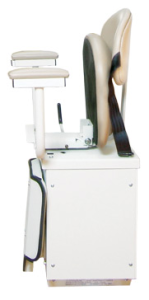 A stair lift can offer independence, often at a time when a person is struggling to maintain personal independence.
Adding a stair lift to a home or business means enhancing mobility options for those in need. If the cost of a stair lift is a concern, consider a used stair lift.
In addition to a full line of new stair lifts, Indy Stair Lifts also sells used equipment. Find out if we have the used stair lift option that fits your needs.
Call 1-888-203-5754 for More Information
It's important not rush into buying any stair lift, new or used, before making sure you know your mobility needs:
What size stair lift is needed?
You can shop for a stair lift that best fits your home and your needs. There are also stair lifts designed for outdoor use.
How will the stair lift be installed in your home?
Professional installation is required. Trained technicians can make sure all equipment is properly installed and safe. In fact, in many areas, the law requires a stair lift to be installed by someone who holds a specialty contractor's license.
Are parts available for the used model?
Ask us about any parts in question. Since Indy Stair Lifts sells used equipment, we may have exactly what you need.
Will a used stair lift need new batteries?
Possibly, depending on the life of the battery. The batteries of a stair lift tend to last 2-3 years. After 3 years, Indy Stair Lifts recommends replacing the battery. The stair lifts require two batteries. Each battery costs about 50 dollars.