Stair Lift Review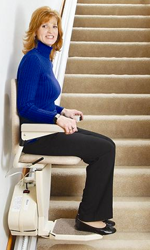 If you are shopping for a stair lift, this stair lift review will provide you with information on the range of styles available.
Indy Stair Lifts, a division of Nationwide Lifts, offers a variety of stair lift models that we'll feature in our stair lift review.
Call 1-888-203-5754 for More Information
Our residential stair lifts range in style and size and perfectly match your needs and your home.
The Indy XL has the heaviest carrying capacity in the industry, supporting up to 500 lbs., with a seat width of 25 inches. It is made with heavy-duty materials to support any body size or type. It has a seat that swivels 90 degrees on the upper and lower landings with a reinforced seat, footrest and armrest.
The Indy Pinnacle is our most popular model, because it offers exceptional comfort and efficiency. It's also the narrowest stair lift on the market, so it's ideal for older homes with narrow stair cases. It features a patented helical drive system that makes every trip comfortable and comes with important safety features, including sensors that stop the stair lift when it meets an obstruction and indicator lights that are easy to read and operate.
The Indy Curve is ideal for curved staircases and is custom built to fit the exact specifications of your staircase. It supports up to 400 pounds and features adjustable seat height and armrests.
We've featured three Indy Stair Lift models in our stair lift review, but there are more to see. Please visit www.indystairlifts.com to see our lineup of top quality stair lifts that come with a 10 year warranty and 24/7 on call support.
Please call us at 1-888-203-5754 for more information. Our service team is eager to assist you in selecting the perfect stair lift that will accommodate your needs and provide you with the freedom to climb the stairs move around your house freely.