Stair Lift Maintenance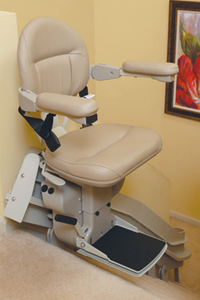 When it comes to stair lift maintenance, there are a few issues to keep in mind. Rail maintenance is fairly easy. Once a month you should vacuum the rail to remove dust, particles and solids that could clog up the wheel pathways. For outdoor stair lifts this is even more important because there may be more dirt to remove.
Stair lift maintenance involving seats involves dusting the seat like any other seat in the house.
Call 1-888-203-5754 for More Information
The car, in which the electric motor mechanism is stored, also requires stair lift maintenance. The rack and pinion and other mechanical parts of the car may wear out so once a year they should be inspected.
Indy Stair Lifts offers 24/7 home care for the stair lifts it sells providing you with round the clock stair lift maintenance service. If you ever have a problem with your stair lift, simply contact us and we'll send a technician to your home to provide maintenance.
The best choice for stair lifts comes from Indy Stair Lifts, a division of Nationwide Lifts, the nation's leading elevator company that developed a new line of stair lifts for all models of stairways, all body types, curved staircases, outdoor use and wheelchairs.
Indy Stair Lifts offers a wide variety of lifts that accommodate the elderly and injured and anyone who can benefit from the ease and accessibility a stair lift brings to the home.
It's easy to get more information about Indy Stair Lifts. Simply call us toll free at your earliest convenience at 888-203-5754 and a knowledgeable representative will assist you in learning more about Indy Stair Lifts top of the line models that make life easier for disabled individuals who enjoy greater mobility with a professionally installed and serviced stair lift from the industry leader.