Stair Lift Installation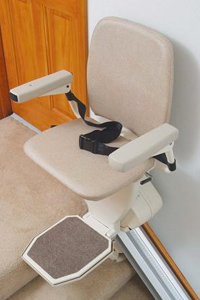 When it comes to stair lift installation, don't do it yourself. Stair lifts should be installed by trained technicians for safety. In many regions, it is illegal to install a stair lift without a permit and specialty contractor's license. And the reliability and longevity of the equipment is dependent upon proper installation and maintenance. The unit must be installed and maintained by a qualified technician to maintain its warranty.
Call 1-888-203-5754 for More Information
Indy Stair Lifts are properly installed by our professional technicians who are trained to install our high quality stair lifts on narrow stairways and curved stair cases. Our stair lifts can be customized to the architecture of your staircase in compact, extra large and wheelchair accessible designs.
Our most popular stair lift model is the Indy Pinnacle which is only 11″ wide, the narrowest stair lift available. It features safety sensors to stop the lift when it meets an obstruction with indicator lights that provide an easy operating system. It has an adjustable seat for height and swivels at the upper landing for a safe and simple exit and entry. It holds up to 350 lbs. with a speed of 17-21 feet per minute.
Our Indy Lux stair lift features a compact design with folding arms, seat and foot rests. It has a weight capacity of 400 lbs. with a seat width of 21.75″ to suit a variety of body types and sizes. It also features obstacle sensors that allow you stop and remove whatever is in the way.
If you'd like more information about the Indy Pinnacle, Indy Lux or any other top of the line Indy Stair Lifts models, please call us toll free at 888-203-5754. You can discover how Indy Lifts make life easier for elderly or disabled individuals who can enjoy their homes with greater mobility with a professionally installed and serviced stair lift from the industry leader.