Stair Lift Dealers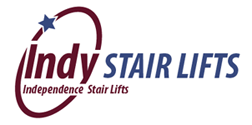 When it comes to stair lift dealers, the best choices come from Indy Stair Lifts, which has developed a new line of stair lifts for all models of stairways, all body types and curved stairways.
The Indy Stair Lift models satisfy all the issues you may be concerned with, including seat height, soft start and stop features and the type of stairway in your house.
Indy Stair Lift's Indy Pinnacle is the narrowest stair lift, only 11 inches away from the wall. It lifts up to 350 pounds and is equipped with a helical drive system.
Call 1-888-203-5754 for More Information
The Indy Platform is compactly designed with ramp obstruction sensors that stop the stair lift to avoid obstructions.
The Indy XL stair lift has the greatest capacity, supporting up to 500 pounds and is constructed on heavy duty materials to support any body weight. It mounts directly to the stairs and is designed with a 180-degree swivel seat.
The Indy Curve is designed to the contour of the staircases and can be built to accommodate 90- or 180-degree turns, around a banister, or across a landing.
Indy Stair is the leader of stair lift dealers offering a wide variety of lifts that accommodate the elderly and injured and anyone who can benefit from the ease and accessibility a stair lift brings to the home.