Stair Lift Chairs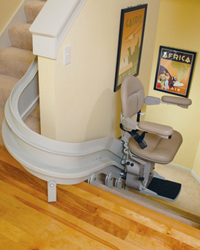 Having to physically carry a grandmother or an injured family member up and down a flight of stairs is dangerous and time consuming. There is the real danger that both people will fall backwards and become seriously injured. In most homes, the stair cases are the places where most accidents occur. The combined force of two adults falling backwards and down a long flight of stairs is powerful enough to break bones and cause permanent, long term injuries. The best solution is to install a high quality and reliable stair lift. Stair lift chairs must be installed by a professional and they must be used in accordance with the rules and regulations.
Call 1-888-203-5754 for More Information
For the elderly and or the injured person in your family, a stair lift is the best solution to a very confounding problem. The best way to give a non-ambulatory person a way to get up and down a set of stairs without having to ask for assistance is with a stair lift.
There are numerous features that come with the Indy Curve Stair lift, a custom design. These amenities include being made in the USA, working with curved staircases, supporting up to 400 lbs, using a direct drive motor/gear box and featuring a vertical rail to leave plenty of space for guests. It also has instant unit status using visual diagnostics, and lastly, it operates using two 12-volt batteries along with a common household plug. This customizable stair chair lift will safely and securely transport injured family members from one floor to another. Like most stair lift chairs, the Indy Curve Stair lift comes with a multi year warranty. This type of stair lift can be installed in a home, small business or even in a bed and breakfast. Stair lifts are durable, affordable and helpful.