Stair Glides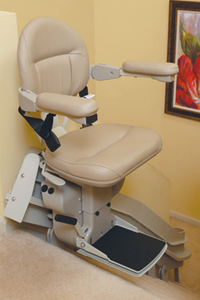 According to federal workplace laws, employers cannot, under any circumstances, discriminate against a person who is physically handicapped. This broad-reaching law encompasses the right of a handicapped person to have the liberty to travel freely around the workplace as needed by his or her job description. It is also mandatory that even if a person is only temporarily unable to traverse unassisted up or down a set of stairs that his or her employee make every reasonable accommodation.
Call 1-888-203-5754 for More Information
For the small to midsized business the best solution for complying with this type of law would be a stair glide, or stair lift. Stair glides are much cheaper than installing an elevator and they are much easier to maintain. Most stair lifts come with a manufacturer's warrantee, detailed instructions and world class customer support. Additionally, by installing a properly functioning stair glide, the employer will be in full compliance with federal workplace rules and regulations.
A perfect example of a commercial stair lift that is popular with many work environments is the Indy PRO Lux Stair lift. This particular lift has a maximum weight capacity of 400 pounds, it conforms to just about any body type with multiple seat heights, a large seat size and adjustable width armrests and it also installs within six inches from the wall, leaving ample of room for coworkers to comfortably walk up the stairs. This particular stair glide comes with a five year manufacturer's warrantee and several different options in terms of upholstery.
Stair glides are the best bet for non-ambulatory workers who need to move freely in and around their place of employment. They are relatively easy to install and uninstall. There are stair glides for residences and business of all sizes, and even stair glides that can be used outdoors.