Stair Glide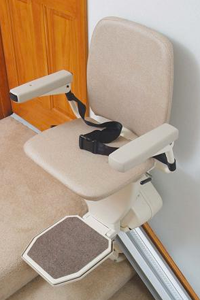 As the elderly demographic in America continues to grow, the need for a safe and reliable way for elderly people to move from one floor to another becomes more and more paramount. A person should have the liberty and opportunity to move freely about their homes and places of work. A stair glide, also called a stair lift, is an ideal solution for someone who is too old, permanently disabled or just temporarily rendered non-ambulatory. Most stair lifts come with long term warranties, the ability to work on a number of different types of staircases and even partial Medicaid reimbursement.
Call 1-888-203-5754 for More Information
Purchasing a basic stair lift is something that most Americans, at some point in their lives, will have to contemplate, either for themselves or for when a person's parents moves in with them. One of the more popular stair glide models is sold by IndyStairlifts. The Indy Pinnacle Stair Lift is a perfect example of how a stair glide can enhance the quality of life for someone who cannot climb up or down a set of stairs. At only 11 inches wide, it is one of the narrowest stair lifts on the market. The Indy Pinnacle Stair Lift can safely transport a person weighing up to 350 pounds, the chair seat can swivel, and it comes with a 10-year warranty. This stair glide and many others like it are designed to give the elderly the sense of independence they deserve while also giving them the sense of safety that they desire. Because these stair lifts are made so that a person can use them without assistance, family members will feel perfectly comfortable leaving their loved alone while they go off to work or tend to other common duties.
Stair lifts can also play a vital role in small to mid sizes business. Because it is a violation of federal law to discriminate against anyone who is non-ambulatory, stair glides offer an inexpensive solution to a tough problem. Instead of installing an expensive elevator, a stair glide can safely and securely transport disabled employees from one floor to another.