Stair Glide Stairway Lift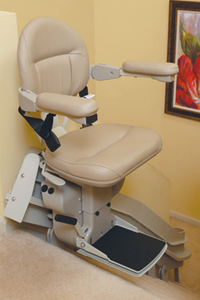 Stair lifts are not just for homes. They work just as well on stairways in small to mid-sized companies. Federal law requires that employers make reasonable accommodations for any employee who is either permanently or just temporarily disabled. For example, an employee breaks his or her legs in a skiing accident and cannot traverse the set of stairs her office has the right to ask for an accommodation. Face to face meetings with her peers on the second and third floor are vital to doing her job. In order to avoid accusations of job discriminations and the ensuing costly litigation, an ideal solution to this vexing problem is to install a stair glide stairway lift.
Call 1-888-203-5754 for More Information
The features of the Indy Pinnacle Stair lift include being made in the USA, it is able to make forty trips during a power outage, has a Helical Drive System, safety sensors that will always stop the lift when it meets an obstruction, and the entire system weighs a mere 180 pounds. Additionally, it comes with a sixteen feet of track and indicator lights that provide for an easy operating system and it does not need any sort of grease or lubricants. This lift will safely and securely transport employees from one floor to another and best of all, it comes with a ten year warranty. For a small to midsized company that is housed in locations with multiple floors and no elevator, then a stair lift, like the Indy Pinnacle, is an ideal solution.
Stair lifts come in all sizes, shapes and prices. There are stair lifts that are capable of transporting a person weighing in excess of 350 pounds, there are stair lifts that are designed for outdoor use and there are even stair lifts that can transport a person in a wheelchair.