Stair Glide Stair Lifts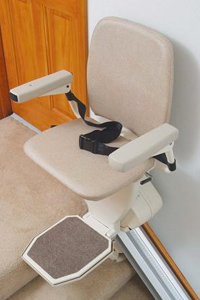 Stair lifts are not just for the elderly or the permanently disabled; many families rent stair lifts when one of their loved ones breaks a leg or somehow otherwise becomes temporarily disabled. When a person is confined to a wheelchair or needs to use crutches in order to get around then renting and installing a stair glide stair lift is a good idea.
Call 1-888-203-5754 for More Information
Stair glides or lifts are a safe and affordable way to help an injured family member get up and down a set of stairs. If a person is going to be on crutches for six to eight months or confined to a wheelchair for an indeterminate about of time, then renting a stair lift is a highly sensible solution. Stair lifts will give the injured person a sense of dignity and freedom; not having to ask for help in order to traverse a set of stairs will make the injured person feel like he or she is less of a burden. Stair lifts will provide access and freedom to those who are suffering from injuries that render them non-ambulatory.
The Indy Platform Stair Lift is the ideal lift for a seriously injured person. This platform lift can safely transport up to five hundred pounds, it has a maximum travel distance of an astonishing forty feet, a top speed of fourteen feet per minute, an over speed governor, upper and lower landing limits, ramp obstruction sensors, an under platform safety pan, drive chassis obstruction sensors, and non-skid surface. The Indy Platform Stair Lift comes with a multi-year warranty. This lift is also ideal for transporting people who need to use a walker or a person who has had a limb amputated or an elderly person who does not have the strength to traverse a set of stairs.