Stair Chair Lifts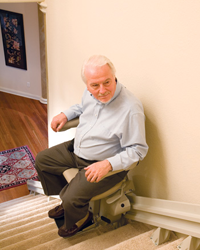 If you are unable to scale the stairs in your home any longer, you probably know how frustrating it can be to rely on other people for help. You may be faced with the decision of selling your multi-story home for a single story home or simply moving your entire life to the first floor of your house. But with the addition of one single thing to your home, a stair chair lift, you will instantly gain back a great deal of your independence. A stair lift may just be exactly what you need to breathe life back into your home; you will be able to easily arrive at the top or bottom of the stairs by simply sitting down, buckling up, and pressing a button.
Call 1-888-203-5754 for More Information
By contacting our customer service department today, you will be able to speak with a representative who can help you find the perfect stair chair lift for you and your home. While each one of our stair chair lifts is made with the best quality in mind, each has different features, so you will be able to find a unique model that is perfect for you. It is important when you are selecting your lift to determine the criteria that it needs to meet; for example are you going to be using your stairlift outside, or do you need a higher weight limit on your lift? Answering questions like these will help you find the best chair lift for you.
Once you have your chair lift selected, an installation professional will be able to come into your home and install the lift. It is crucial that you allow a professional to complete this task; if you attempt to do it yourself, you may run into some troubles and potentially hurt yourself. A professional has been extensively trained to install the lift and will be able to do so quickly and effectively in your home. Your new stair lift will be up and running in no time at all when you find your stair lift with us.
So don't go another day unable to freely explore your entire home; you no longer have to be confined to the first floor. Find the right stair lift for you and you will be free to roam your home without relying on a loved one to assist you.