Stair Chair Lift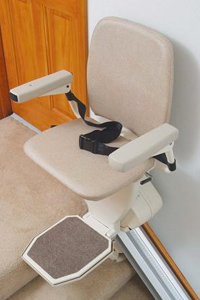 A multilevel home can be a joy to live in, as these homes have a great deal of character and are incredibly popular, but unfortunately, it isn't always simple for everyone to live in such a space. Scaling the stairs does not come as easily to some as it does to others, so the thought of living in a two- or three-story home can be intimidating. If you want the perks that come along with living in a multi-level home but you or a loved one are unable to climb the stairs, then you may want to invest in one of our stair chair lifts.
Call 1-888-203-5754 for More Information
A stair chair lift can be quickly and simply installed when working with us, and you will be on your way to the top of the stairs in no time at all. By simply placing an order online or with one of our customer service representatives, you are taking the first step towards regaining freedom in your home. Instead of being confined to one floor or relying on a friend or family member to assist you upstairs, you will be able to simply sit down, buckle in, and be on your way to whichever floor of your home you desire.
Our stair lifts come in a variety of models, so whether you need a stair lift outside of your home, one on the interior of your home, or both, we can meet all of your needs. There are also different levels of stair lifts; from our more basic Indy Pinnacle to the luxurious Indy XL and all the lifts in between, you will be able to find what is perfect for your multilevel home. So contact our customer service department today to determine which lift is right for you and to begin the installation process.